MAYS LANDING — Sergio DeRosa, who is on trial for murder in the 2014 death of his wife, Lynn, sat in court Wednesday along with jurors and watched himself on videotape being interviewed by police detectives.
DeRosa, 57, of Pleasant Mills Road in Mullica Township, maintains he shot his wife by accident after cleaning a shotgun. He was in court wearing a black suit and a maroon tie.
Lynn DeRosa was found dead in their home just before 9:30 a.m. Sept. 26, 2014, with a shotgun wound to the head. An autopsy determined the manner of death to be homicide.
Sergio DeRosa was originally indicted on a charge of manslaughter in September 2015. He was indicted on a murder charge in October 2016.
On video, DeRosa professed his love for his now-dead wife.
He talked about how he never hit her, and they talked on the phone "50 million times."
On the video, DeRosa talked about his late wife as an animal lover and a "great, great woman." Jurors were given a transcript of his interview with the police.
"People were kind of jealous because we were so close in everything we did," said DeRosa on the black and white video that was played in court.
At times he appeared upset while talking to detectives. He rose out of his chair when the detectives threw out the possibility that his wife might have been cheating on him.
"I cannot believe this," DeRosa said in the video. "I have no house, no wife. There's nothing left. Where is my life?"
DeRosa cursed himself out on video talking about how stupid he was to put a live round into the shotgun and to pull the trigger.
When police confronted DeRosa and told him that he did it or to confess, he vehemently denied that her death was anything but an accident.
"I did not kill my wife. Give me any reason why I would kill my wife," DeRosa told the detectives on video. "I'm not a killer. ... I have to live with this."
DeRosa talked about how he had nothing to live for on video and was so distraught police took him to a psychiatric hospital because he threatened to harm himself in their presence.
The day was full of prosecution witnesses.
Gloria DeRosa, Sergio DeRosa's daughter-in-law, told Chief Assistant Prosecutor Seth Levy that her in-laws consistently argued about money in front of her.
Gloria DeRosa testified that Sergio DeRosa killed his wife for her money. Gloria DeRosa testified there was more than $80,000 in a safety deposit box, and she said Sergio DeRosa told her and her husband that he took the money.
Elaine Murphy, a dealer at the Borgata Hotel Casino & Spa in Atlantic City testified she was "100 percent certain" that one day when she was dealing poker to him in 2014 that DeRosa said to her that he was going to kill his wife.
One of DeRosa's defense attorneys, Jill R. Cohen, went after Murphy for the months of delay before she went to the police and told them what she allegedly heard.
When Murphy said on the stand that she believes she heard DeRosa say that his wife was lazy, didn't do anything and spends money, Cohen got her to admit that the police statement she gave doesn't not contain those words.
The trial resumes 9 a.m. Thursday.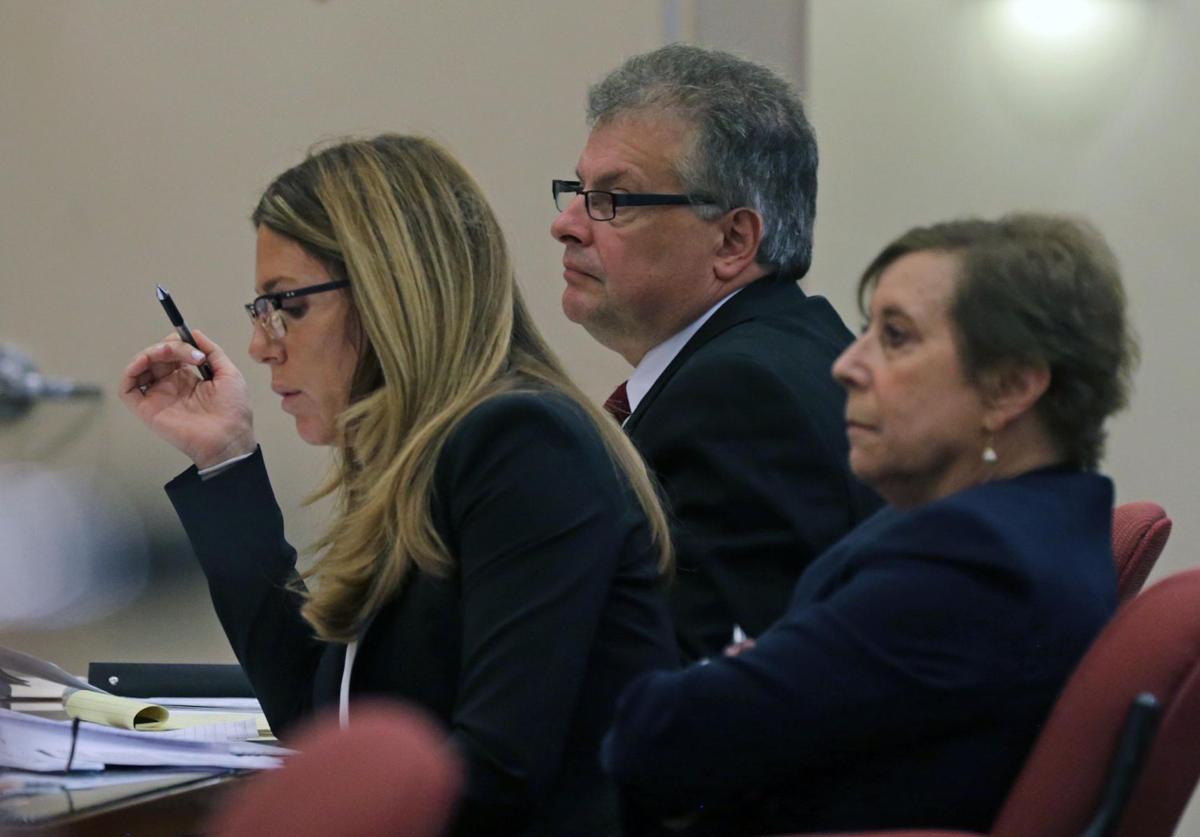 http://www.pressofatlanticcity.com/news/murder-suspect-appears-in-court-live-and-on-video/article_d85d329d-f4a4-5c4d-b11b-ad29856417a0.html
http://www.pressofatlanticcity.com/gallery/sergio-derosa-on-trial/collection_74f69be0-76e2-56b3-8bd3-6eec5a8e37fb.html
Other related links at
http://gadfly01.blogspot.com/2014/05/mullica-shooting.html