Egg Harbor City's Peace Pilgrim, known worldwide for giving up her name and all her possessions to walk the country promoting peace, has won a place in the New Jersey Hall of Fame.
"It's about time," said her sister Helene Young, 101, of Galloway Township. "I was hoping to live long enough to see it."
Peace Pilgrim and 14 others will be inducted in a ceremony in May in Asbury Park, the hall announced Tuesday.
Members of the public voted for their choices in several categories at
njhalloffame.org
in the fall.
"We are hoping to get the Hall of Fame van museum down in Egg Harbor for the celebration in September," said Barbara Reynolds, of Stafford Township, a board member of the international group Friends of Peace Pilgrim and a leader of the local group Peace Pilgrim 100.
The museum is a traveling exhibit.
Reynolds said coincidentally the board of Friends of Peace Pilgrim will come from all over the U.S. to meet at Young's home the same weekend as the induction ceremony. Young and a board member will accept the induction award, Reynolds said.
Just 50 people from all historical eras are nominated for the hall in five categories each year. Most are from North Jersey.
Peace Pilgrim, born Mildred Lisette Norman in 1908, was the first woman to walk the entire Appalachian trail.
She found her career in Philadelphia and Washington, D.C., to be spiritually unfulfilling, even as the peace lobbyist for the Women's International League for Peace and Freedom.
So she began walking the country for peace in 1953. She chose to be called Peace Pilgrim and told friends and family members not to use her birth name.
But the last time she was up for the New Jersey Hall of Fame two years ago, she was listed Mildred Lisette Norman, not Peace Pilgrim.
"Nobody knew who she was. It was a waste," Young said.
She said her sister wanted to be anonymous, and that's why she gave up her name.
"She was not looking for personal glory. She was looking for peace in the world," said Young.
Peace Pilgrim called it, "living to give, not to get."
Peace Pilgrim walked the country for 28 years. She stopped counting the miles in 1964 after hitting 25,000, she said. She never carried food or money but ate what was freely offered to her as she walked and slept on the side of the road if a bed was not offered to her.
She was killed in a car crash in Indiana in 1981 while being driven to a speaking engagement just before her 73rd birthday.
Swarthmore College in Pennsylvania houses a collection of Peace Pilgrim's writings in its Peace Library, and the Friends of Peace Pilgrim keeps her message alive around the globe, translated into 29 languages. The group distributes her book, "Peace Pilgrim: Her Life and Work in Her Own Words," and her pamphlet, "Steps Toward Inner Peace," free of charge to anyone who asks.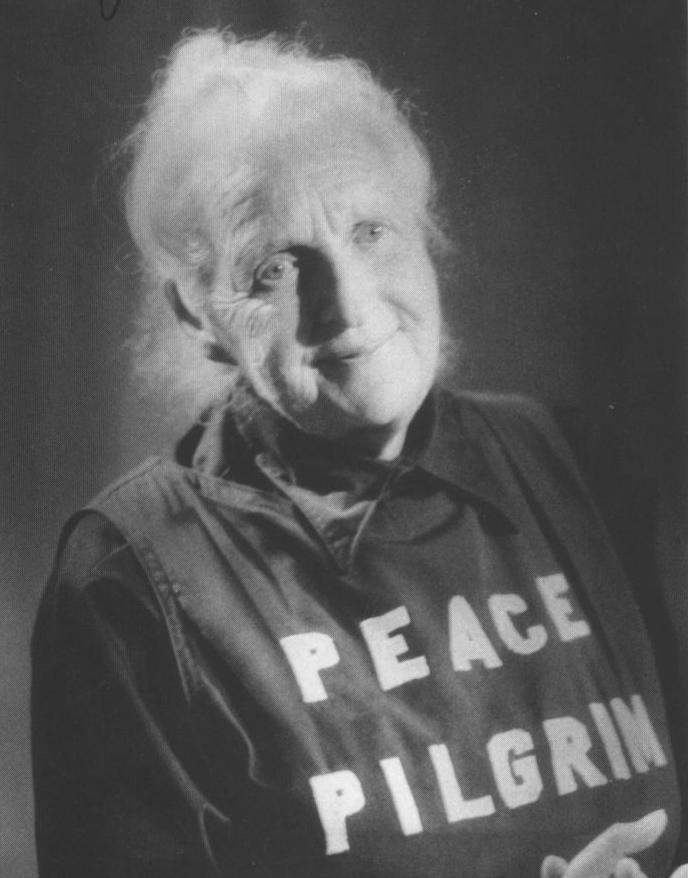 http://www.pressofatlanticcity.com/news/egg-harbor-city-s-peace-pilgrim-chosen-for-nj-hall/article_96e52e27-c115-5bfd-bfd0-f9c1c3368483.html